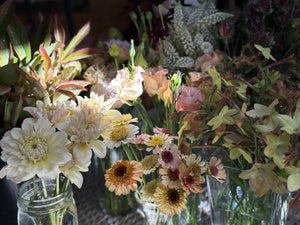 Field-to-Vase Farmer-Florist
I offer a seasonal flower CSA April through September as well as bridal bouquets and wedding florals, DIY flowers, special order bouquets and custom arrangements for a variety of occasions.
My service area for special orders and wedding work includes Poulsbo, Bainbridge Island and the north end of the Kitsap Peninsula in Washington State.
Visit the events page for information on the twice-yearly bouquet bars held here at our historic farm.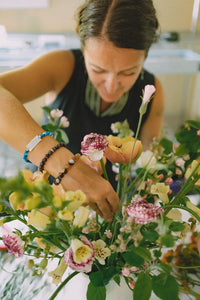 welcome!
Petal & Pitchfork is a flower farm and floral design business focused on in-season, locally-grown flowers serving Poulsbo, Bainbridge Island and select locations in North Kitsap County in Washington State.
In addition to ranunculus, tulips, dahlias, lisianthus and chrysanthemums, I grow many unique perennials, some of which are native species and make gorgeous cut flowers. These elements speak to my style, my passion for nature and my love of the intersection between the wild and the cultivated.
CONTACT ME with questions about any of my offerings!
I enjoy tremendously the meaningful connections I make with my clients and look forward to bringing you the magic of local, in-season flowers!
~Stacy Marshall
View Current Offerings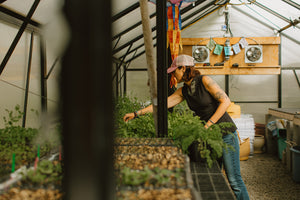 committed to quality and sustainability
All of my flowers are grown utilizing regenerative agriculture principles, without chemicals, fertilized with organic soil amendments and a fish and kelp foliar fertilizer. Thoughtfully introduced beneficial insects help to reduce pest pressure. Birds and pollinators are supported through a variety of intentional practices.
All stems are harvested at the optimum bud stage and typically within twenty-four hours of pick-up/delivery to maximize vase life.
Inquire here
Petal & Pitchfork is a business member of 1% for the Planet, a global organization that exists to ensure our planet and future generations thrive. 1% for the Planet inspires businesses and individuals to support environmental partners through membership and everyday actions.

Started in 2002 by Yvon Chouinard, founder of Patagonia, and Craig Mathews, founder of Blue Ribbon Flies, 1% for the Planet business members and individual members have given hundreds of millions of dollars to approved environmental partners to date.


Emerald Hour's mission is to inspire and empower wedding professionals to create more sustainable events in the Pacific Northwest.
Applicants to Emerald Hour undergo a sustainability review prior to receiving Board approval for membership within the organization.